Lesson goal: Coloring a map
Previous:
Traveling between cities
|
Home
| Next:
Solving a right triangle
Suppose you have a map that looks like this (you can use any map for this, even a real one from where you live):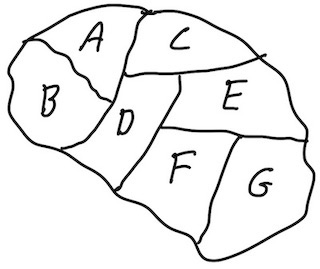 adjacent(X,Y)
:-
color(X)
,
color(Y)
,
X \= Y
.
Move the mouse over a dotted box for more information.
Now you try. Draw the map shown on a piece of paper, and see if the coloring solutions work!
Type your code here:


See your results here:
*Note: this code was adapted from the code at www.nosco.ch.